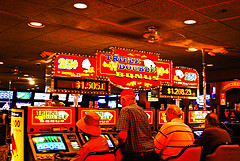 by
Rockin Robin
Miley Cyrus was photographed attending Britney Spears' concert at the Planet Hollywood Casino in Las Vegas on Friday night (December 27, 2013). The "Wrecking Ball" hitmaker was joined at the show by Justin Bieber's ex-girlfriend Selena Gomez, "Roar" singer Katy Perry, "Extra" host Mario Lopez, DJ Pauly D and Adam Lambert. Miss Cyrus was clearly in high spirits as she couldn't stand still during the opening night of Britney Spears Piece of Me show. The 21-year-old singer waved her hands, let her tongue loll and bopped to the beat while Britney sang her hits "the Ooops… I Did It Again," "Toxic" and "Baby One More Time."
After watching the 32-year-old songstress perform in her opening residency show, Miley Cyrus was spotted partying at Beacher's Madhouse at the MGM Grand Hotel And Casino, where she was joined by her rumoured boyfriend Kellan Lutz. The « Adore You » singer was dressed in a scanty ensemble, which included a crop top and black skirt. Meanwhile, her beau looked casual in a black T-shirt with jeans, a black leather jacket and a baseball cap. Miley Cyrus got cosy with the "Twilight Saga" star as she passionately embraced him and kissed him on the cheek. Meanwhile, Kellan Lutz also looked enamoured with the "Bangerz" crooner at the bash. He whispered into her ear, kept persistent eye contact with her and chatted intimately with her during the party.
Miley Cyrus and her rumoured boyfriend Kellan Lutz were seen partying together at the opening of Beacher's Madhouse in Las Vegas on Friday night (December 27, 2013).
Miley Cyrus kept pulling her rumoured boyfriend Kellan Lutz into her and putting her arms around his neck. The « Adore You » songstress planted a kiss on his cheek at the bash before leaving the nightclub with him at around 3:30 a.m.
The couple were reportedly dating after they were spotted arriving in Miami on the same private jet on Wednesday (December 18, 2013).
Miley Cyrus was dressed in a tight-fitting black stretchy one-piece suspender paired with a crop top for the party. She combined her ensemble with tartan print stiletto shoes and rocked a shade of red lipstick to complete her appearance.
Miley Cyrus attended the premiere of Beacher's Madhouse, where she was joined by Selena Gomez, Cheyne Thomas and Katy Perry.
Related articles:
Miley Cyrus and boyfriend Liam Hemsworth go shopping in Studio City (September 2012)
Tom Daley's Rumoured Boyfriend Revealed As Oscar-winning Writer Dustin Lance Black
Kelly Rowland Flashes Engagement Ring While Confirming Her Engagement to Boyfriend Tim Witherspoon
I am currently a lecturer at a college in California. In my free time, I am fond of reading articles and joining social activities.