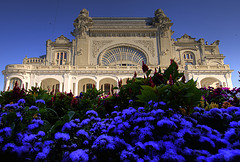 by
Chodaboy
Sin City was a celebrity magnet for Super Bowl Sunday on February 5. Las Vegas nightclubs always pack in the star power, and Sunday was no exception. Brody Jenner, reality TV star and part of the notorious Kardashian clan by way of father Bruce Jenner, partied at Vegas club The Joint inside the Hard Rock Hotel & Casino for night three of Motley Crue's residency "Motley Crue in Sin City. » Chicago White Sox first baseman Paul Konerko was also spotted.
Over at Italian restaurant and Las Vegas club Lavo, Joe Jonas of the band The Jonas Brothers and Jessica Lowndes of 90210 dined with a group of friends, and afterward Jonas joined Eric D-Lux in the club's DJ booth to open the set. Others in attendance at the Lavo festivities were football players Marcedes Lewis of the Jacksonville Jaguars and Carolina Panthers Jon Beason and Charles Godfrey. Lewis jumped in the DJ booth many times and signed several jerseys worn by staff members.
On Saturday, February 4, Wilmer Valderrama of That 70s Show fame celebrated his 32nd birthday at Hyde Lounge in the Bellagio hotel with Joe Jonas, Jaime Pressly, Mandy Moore, Minka Kelly, and others. The party occupied the huge VIP area under the DJ booth, downed Grey Goose and champagne all night, and danced on couches to a remix of a Bloodhound Gang song. Valderrama's cake featured an edible Patron Silver bottle, and was brought out by dozens of hot cocktail waitresses. Also at Hyde on Saturday were Entourage actor Kevin Dillon, Playboy Playmate Crystal Harris, and NFL rushing legend Jerome "The Bus" Bettis.
The Motley Crue residency opened on Friday, February 3 to a sold out crowd of celebrity guests and friends. Papa Roach front man Jacoby Shaddix joined the band onstage to sing "Smokin' in the Boys Room". Seen enjoying the show were DJ Ashba of the quintessential rock band Guns N' Roses, The Killers bass player Mark Stoermer, and "Chelsea Lately" comedians Josh Wolf and Jeff Wild. "Motley Crue in Sin City" will continue through February at the Las Vegas nightclub, The Joint.
Elsewhere on the Strip on Friday night, actresses Minka Kelly and Mandy Moore joined UFC fighters Georges St. Pierre, Jon Fitch, and Kenny Florian for dinner at Lavo. Michael Phelps, Olympic gold medalist and man-fish, was also at Lavo. He enjoyed a tasty Kobe Meatball and Pizza in the restaurant and some dancing in the club with Apolo Anton Ohno and Cheryl Burke of Dancing with the Stars. At Lavo's sister restaurant, Tao, Apl.de.Ap of the Black Eyed Peas feasted on Chilean sea bass skewers and wok sirloin in preparation for his DJ'ing at the upstairs nightclub. Stay tuned for more celebrity Vegas club sightings next week!