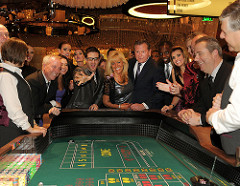 by
The Cosmopolitan of Las Vegas
Quantum of Solace continues on where Casino Royale left off. Through his boss, M Bond (Daniel Craig) finds out that his former lover from the first movie was killed by her boyfriend and that he is still alive. Bond swears he will get him for it.
In the film's first sequence, we witness an intense car chase. After evading the henchman, Bond reaches Siena Italy, opens his trunk, and lets out Mr. White, who is still inside! Bond and M interrogate Mr. White about a secret organization he is part of called Quantum. After receiving a cryptic response from White about the members of the Quantum being everywhere across the world, M's bodyguard Mitchell begins shooting at M and Bond, revealing that he, too is a member of the Quantum. White escapes but Bond tracks down Mitchell and kills him.
We continue on to watch Bond travel to track down Quantum. He meets Camille Montes who is dating a man that was actually hired to kill her.
Bond inadvertently messes up the murder, and as he watches as Camille returns to Dominic, demanding if he is the one who is trying to kill her. While watching, Bond learns that Greene is helping Bolivian General Medran overthrow his government in exchange for a seemingly barren piece of desert. Camille leaves with the General as part of the agreement between Green and General Medran, and an exciting boat chase ensues in which Bond saves Camille.
Camille, now partners with Bond, work to uncover the truth that both Greene and Vesper's boyfriend Yusef Kabira have something to do with the Quantum. And General Medran, who murdered Camille's family, also has something to do with Greene and his plans. General Medran viciously murdered Camille's family years before, and Camille is also out for revenge. This is an especially exciting plot twist, because we get to see Bond and his love interest both out for brutal revenge. The film is action packed and full of surprises; a must have for any Bond aficianado!
The James Bond Quantum of Solace can be bought at CDWow and is a cool gift for friends. James Bond Quantum of Solace is amazing and full of action and is definitely a must see.